Mike & Nanci Messana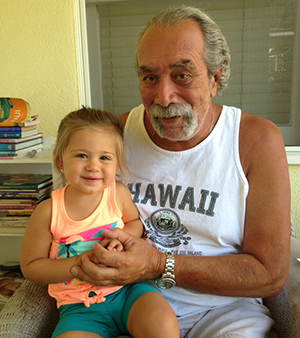 "Mike with our greatest joy; our granddaughter Lana-Rae"
Mike and I started collecting Carnival glass about 4 years ago. To all the longtime collectors we've had the pleasure of knowing since we started, this makes us relative newbies - just a couple of babes in the woods! But we caught onto it like a house afire and we haven't regretted a moment of it!

Our very first purchase, the catalyst that started our "obsession", was a piece of Indiana glass found at the Rosebowl Flea Market. Little did we know that first piece would lead us to two 6-foot tall glass cabinets full of much older and much prettier glass. Because we had the good fortune to meet Gary Lickver early into our collecting we ended up with only a couple of boxes of worn out & damaged pieces which we had purchased here and there prior to meeting him and which now reside out in the garage!

Now here we are four years later, older, wiser and still "obsessed" ! It's a dangerous thing when both partners in a marriage are equally into it because there's no adult in the room when it comes to carnival glass auctions and room buys - you tend to cheer each other on! And you know you've got the carnival glass crazies when you both agree you'd rather go to a glass convention than a Caribbean cruise!

Still - good sense does manage to prevail as we do stop short of selling our house and/or our car for glass cash! Where ever would we display our glass? and how would we get to the club meets?

In all seriousness, we not only love carnival glass but we have met some amazing people who love it too and without that wonderful sense of shared community the "obsession" wouldn't be nearly as fun or rewarding.