Ray & Shirley Henry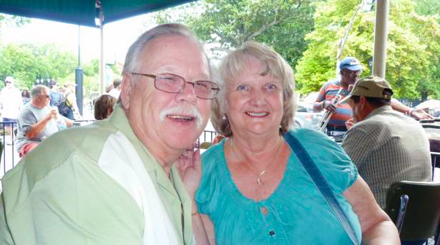 Ray and I met when we were both high school Seniors in the Finger Lakes region of upstate NY. I went on to college and he joined the Army but we stayed in contact through letters. Ray ended up in the 82nd Airborne and deployed to Vietnam. Later I became an elementary teacher and Ray became the mold maker at Garlocks, Inc. His experience makes him appreciate the fine workmanship of some Carnival Glass patterns.
We began collecting 41 years ago in 1973 when we needed something to display on our antique furniture we were restoring. I have always loved Heart and Flowers, Paneled Dandelion, and rose bowls. Ray likes Acorn Burrs, water sets, and the rare and unusual.
Over the years we did have to downsize twice. We sold the lesser half of our collection in 1995 at the Great Lakes convention. We had two children in college and six cars on the road. After we retired we down sized in 2009 when we planned our move into a much smaller house in upstate SC.
Now we live near our son and daughter and our four Grandchildren. They keep us very busy and happy. It has been a good move. We try to travel to at least one or two conventions each year to see old friends and meet new ones. Carnival friends are the best.