Carl & Pat Chapman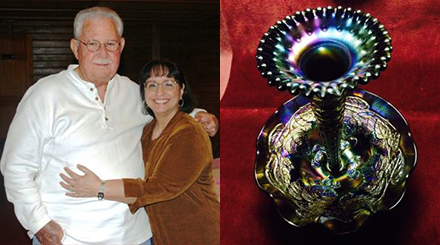 I was not really attracted to carnival glass in 1993 when I first started this journey. I was faced with a loved one fighting a fatal battle with cancer when my doctor told me that I needed to take a break and find something to take my mind off of my current situation. Having always liked antiques, I started visiting local antiques shops one day a week, never buying, just looking. When my loved one passed, I began to go to auctions, accumulating many nice things and finally opening a small antique business in a local mall.
One day the lady that ran the mall asked me if I was interested in purchasing an estate, which I was. When I went to see the things in the house, the owner and I could not come to an agreement on the price, the gentleman told me he needed some money and was there some things we could agree on. We agreed on an oak bow-front china cabinet, full of carnival glass. I gave the seller a deposit and went to get my truck. When I returned to load the glass and cabinet I noticed some of the carnival glass was missing, dust rings gave it away. I challenged the seller and he had is grandson retrieve the glass, completing the transaction. I immediately purchased an Edwards Standard Encyclopedia of Carnival Glass, I was hooked.
My first single piece was purchased at an estate sale. My job was Maintenance Supervisor in the pressroom of The Tampa Tribune and on a Sunday morning I put my crew to work and left the senior man in charge and went to the estate sale. There was only one piece of carnival glass left, a green stippled rays nappy marked at $16.00. The lady said that no one had shown interest in it and asked what I'd give for it. I offered her $5.00 which she took, I still have it.
I later went to an auction and bought an amethyst Memphis Fruit Bowl with a base and several cups, the base had a chip on one of the points. About this time I met Pat who had no knowledge of carnival glass. In February 2003, we attended a Tom Burns Tampa Bay Carnival Glass auction just to purchase a perfect base for the fruit bowl. After the auction someone asked me if I was interested in joining the club. We attended a couple meetings during the year and at the Christmas meeting I was asked to be the President of the club. I tried to decline as I didn't know much about carnival glass but was talked into it with the premise it would only be for two years due to term limits. Two years later the club voted to do away with term limits and I've been President since then.
My big thing in collecting carnival glass is epergnes. I currently own 27 including all of the Northwood Wishbone epergnes.
My mentors were Stan Runion, Samantha Prince, and Gary Lickver. Gary and Samantha are the ones that keep me looking at color. They will quickly say "that's ugly".
My wife Pat has her own collection of C. F. Monroe – Kelva, Nakara, Wavecrest - with an occasional piece of Pairpoint and Smith Brothers. Also in her collection are carnival Beaded Bullseye vases and Holly pieces. She is also my right hand, helping me with club responsibilities. I'm looking forward to her retirement so we can visit other clubs conventions and auctions.