Phil & Nancy Waln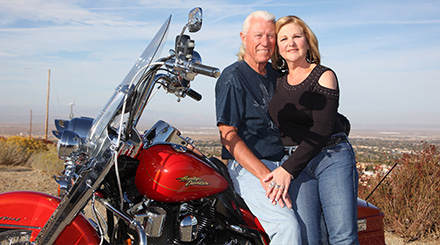 We met a lot of great people going to antique shows and conventions.
Two of those people were George Thomas and Dale Matheny and at one point we purchased their entire collection of Stretch Glass consisting of about 300 pieces. At that time this had doubled our collection. Later we bought a red Chesterfield pitcher, two red Dolphin pieces and a Red Stretch Funeral Vase.
We became officers in the Stretch Glass Society that lasted for over ten years. We have been members of the Northern and Southern California Carnival Glass groups and of Woodsland as well, but at this time we are not members of any group. Please enjoy the "Love Fishin' For Glass" display we did in Northern California a few years ago.
We live in Quartz Hill, California where I am General Contractor, having built both residential and commercial. I now specialize in additions, kitchen remodels and bath remodels.
We hope you enjoy our collection here on Carnival Glass Showcase.
Phil & Nancy Waln