Greg Dilian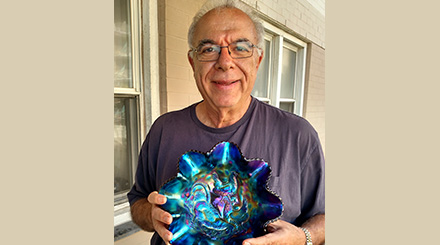 I was born in 1950 and always admired a tall iridescent blue pitcher in my mom's china cabinet. I thought it was beautiful. My mom said she received it as a first anniversary present in 1948 and it was called Carnival Glass but that was all she knew about it. My grandparents, who lived on the second floor of our house, also had some iridescent glass that my grandmother had won as a door prize once in a movie theater in the early 1940's. It was a complete set of Bouquet and Lattice which we actually ate off of on special occasions. So, I grew up knowing what Carnival Glass was.
Fast forward to 1989. I was dating a woman who wanted to go to an antique show she had heard about in Huntington, NY. We went and my life changed forever. No, not with the woman who I stopped dating a few months later but because there was a guy at the show who was selling Carnival Glass. Some of you might know him. His name is Joe Johannets. Joe had a table full of glass for sale. I was looking at it when he came over and explained to me that it was the most collected type of glass in the country and pieces sell for $10 to pieces in the thousands. I thought to myself, "who would pay over $1000 for a piece of glass?" Little did I know! So, Joe gave me a brief course in Carnival Glass 101 in the next 10 minutes and I was very interested. Rule #1 was buy for color. Rule #2 was buy for color. I bought a couple of pieces and went to the library to find a book on the stuff. I found the second edition of Bill Edwards' Standard Encyclopedia of Carnival Glass. I took it home and poured over it. I found out a few things. One is my mom's pitcher was a Fenton Lattice and Grape tankard and that it came with tumblers. Two is the pieces I bought from Joe was a Fenton Cherry Chain sauce in blue and the other a marigold Diamond and File banana bowl. Joe said it was in a scarce shape.
And so the addiction began. A few months later I ran into Joe again and I bought another piece. He told me, if I wanted to learn more, I should go to a convention. He told me that the New England Carnival Glass Association was holding their annual convention in September in West Springfield, Massachusetts. I got excited because Springfield was my dad's home town and he still had relatives there. So, I took my parents to the convention where I was amazed at all the glass for sale in the rooms. Then I went to the auction where there was this auctioneer guy who was yelling at everyone for not bidding enough. But if you listened to what he said in between yells you could learn a lot. Of course, Tom Burns was the auctioneer. I bought an amethyst Little Fishes sauce at the auction and in one of the rooms I bought a set of blue Lattice and Grape tumblers for my mom and gave them to her for Christmas that year.
So, year after year I went to the NECGA convention and to Brimfield with my parents. And from their draft dodging Commie son I not only became close to them but with my father's friends and family in Springfield, as well. Not only that but I became friends with many of the people in the club like Kris and Don Dorais among others.
Skip to the present. I still go to the NECGA Convention and to Brimfield though the car is empty now. I have had two auctions that Tom Burns did at the Mid-Atlantic Jamboree in Hagerstown. I used some of the proceeds to buy the Farmyard bowl pictured above for which I gladly paid way over a thousand dollars. I remembered Rules #1 and #2. Buy for color!