Ronald & Judy Britt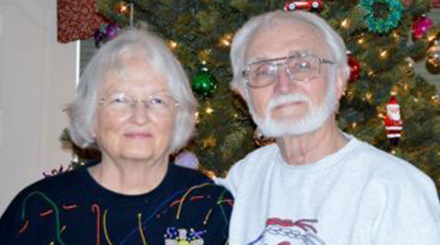 Judy and I started this adventure in 1968. First piece was a Blackberry Spray Hat shape. 48 years later our home is full of glass.
We are old enough to have stopped in Emporia, Kansas to visit with Mrs Hartung, buy what books she had published as we would travel back and forth from Chicago to Kansas to visit our Britt families. We purchased glass from her and continued to buy her new books. Later on we moved to Cincinnati in the 1970's and met Herb Ripley at different shows where he was of great help in our hobby.
I also liked Art Glass and started collecting early 1900's Art Glass Shades. My mentor there was Darrah Roberts in Iowa. Then into new art Glass by Lundberg, Orient Flume, Lotton, Carl Radke, and others.
Then Judy gave me a birthday gift on glass blowing lessons in Enon, Ohio where I learned to blow glass and iridize. Each had a mentor and most are now in Glass Heaven.
For those of you who are wondering, yes, I am related to the Mr. John Britt of Manhattan, Kansas. I met John & Lucille at a Britt reunion in Abilene, Kansas in the late 1980's. My father pointed to John and said, "John collects dishes like you do". In 1994 John & Lucille stopped at our house in Belvidere, Illinois on their way to an ICGA convention. John got Judy all excited when he spotted her $12.50 pastel marigold Rose Show variant and what it was worth.
We then went to the ICGA convention in Schaumburg, Illinois. Our first convention after collecting Carnival for 26 years. There have been lots of Mentors in our lifetime of collecting glass.
The picture shown displays Funeral Vases lined up in our bedroom. Judy says my ashes will wind up in the Elephant Foot vase that we purchased at the OTT auction of many years ago.