David Richards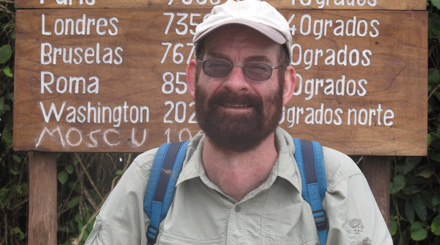 A little about myself; I was born and raised in Cheshire, England, but now spend much of my time at my home in Cumbria amid the glorious North Pennine Fells in an area appropriately called Eden. Beyond collecting glass (mainly Carnival), my other interests are: gardening, archaeology, social and cultural history and photography. I'd describe myself as a traveller in Space and Time. Let me explain.
I love travel, borne out of a desire to see as much of the world as I can and to work out how civilisation got to where it is today; and despite years of concerted effort I still have a bucket list of places to visit as long as my arm.
And Time Travel? Well that's a little more virtual. My professional career as a Landscape Architect and Urban Designer involves me in creating visions of future environments which will develop and mature as we move forward in time. On the other hand, studying the past and collecting objects from it is my key to travelling back in time. What I love about Carnival Glass, beyond it being intrinsically beautiful and endlessly fascinating in its own right, is that while it may be a fairly insignificant element in the bigger picture of recorded history, it provides an excellent springboard for exploring the social context of the particular time and circumstances in which it was made. Although this applies equally to other historical artifacts that I might have focused on, Carnival Glass Collecting is uniquely blessed with a huge diversity of accessible source material and a great network of dedicated and knowledgeable collectors I can interact with. The fact that it has been made in, and is collected in most parts of the world I may travel to is an added bonus.
In a nutshell that's why I'm so addicted to collecting Carnival Glass, which I've been doing seriously for the last ten years. However, to a degree, Carnival Glass has always been part of my life as I grew up with a wonderful purple strawberry bowl, now my most treasured piece, which provided the initial impetus for my involvement. I collect across all areas of Carnival Glass, choosing what takes my fancy for design and iridescence. Some pieces may be rare or unique, others may be common but have a fascinating backstory. Living in Cumbria, England, I am very close to the former North East Tyneside glass making areas, including Carnival Glass makers Sowerby at Gateshead, and I have a particular affection for their output.
Collecting in the UK is very different from the U.S. There are currently no specialist Carnival Auctioneers since the sad loss of Frank Horn, and most of the small antique shops which were a rich hunting ground when I first started collecting have gone. There are still some specialist dealers selling at fairs but much of the trading seems to now be through EBay. The sole UK collectors club, the Carnival Glass Society UK, of which I am a committee member, is an excellent source of advice and offers great opportunities to buy and sell between members at its annual AGM gathering. I would urge anyone in the UK who wants to take their collecting of Carnival Glass forward to join the society as the networking between members is invaluable.