Claudio Deveikis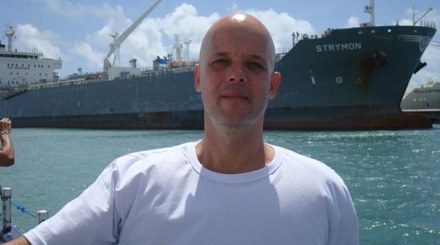 Let me talk a little about myself. I live in a city named Curitiba, capital of a State named Paraná, in the south region of Brazil. I have lived in Curitiba since 1995, but I was born in São Paulo city and have lived there until this date.
I am 47 years old, and, I have collected carnival glass since 2008. The first piece that I bought it was Fenton's Two Flowers, and was sold to me by a friend, owner of an antique store. This friend was an old man and did not use the name "carnival glass". He called it "onion skin". Because of this I did not find information about carnival glass.
One year after this, I found a person on the internet that used to call carnival glass as onion skin but used the name "fire glass" too. This opened a new world to me because in Brazil carnival glass is also called "fire glass". This name is used because the color Marigold is the only color that we know was produced in Brazil, and some pieces are more "burned", a description that we use to say that the color is more strong. After this, it was easy to know that the English name was carnival glass and that was a lead to a lot of things to discover.
I have bought many American and European Carnival, but what I like is to look for pieces that could have being produced in Brazil or in Argentina. You can see that I found a good number of them. www.tempoguaranaderolha.com/#!carnival-glass-novo/c23vc
In Brazil, we do not have references about carnival glass, and many pieces are sold with wrong descripitions. Some European pieces are sold as if they were American. Some 70's are sold as if they were made in the 20's. Some Brazilian pieces are sold as if they were made in Europe...and because of this, I have written a site and a blog, trying to show to Brazilian people what carnival glass really is.
Some pieces were named by me because they don't have a name here in Brazil. Some pieces I have used the names that are used by other collectors. A great number of my Brazilian Carnival were bought in São Paulo, Rio de Janeiro, and specially in Minas Gerais.