Chase Marquis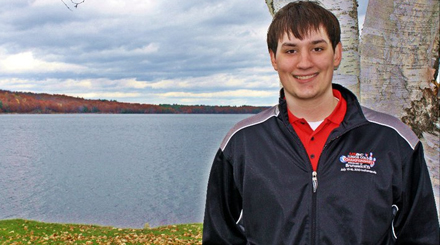 I started collecting at 18 after graduating high school in 2011. I was shown what carnival glass was when the mom of a good friend showed me a few months earlier. She had a built in case filled with some great pieces. She was selling them so she could move into a smaller home, which I then bought some. She had several books that she gave me to read and learn more info than she knew. After reading the books and looking on the internet there were a lot more patterns than she had. While looking online I saw that clubs are all over the country and the closet was NECGA. She said I should join and meet new people, but I didn't really know if I wanted to.
As the years went by and not knowing anymore people who collected around me here in Maine, I then decided to join NECGA in the summer of 2015 and then joined HOACGA a few weeks after. Once the convention came in September, I didn't know what to expect. Once I got there it was better than I thought and glad I went! After meeting everyone I told them I was going to HOACGA. They all said it would be great idea. Now April 2016 couldn't come soon enough! Meeting even more people and listening to their stories was great too. What I'll say is that I thought I knew a lot but going to these conventions and listing to the speakers showed me there's a whole lot more information than I would have expected. Now I'll always look forward to going to each year. The one thing I regret is not joining sooner than now. HOACGA 2016 was one of the best events I've been to in a long time.
Now it's time to decide if I want a certain maker or pattern to form my collection, which is a lot tougher than I thought since I have a little of everything.