Rick & Debbie Graham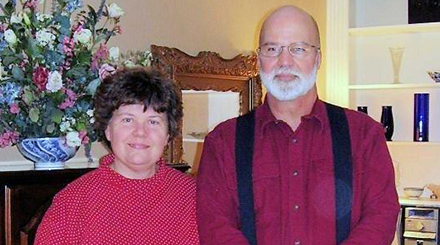 ...when I spotted a small bowl in peach opalescent (Wishbone & Spades) and asked what it was. This is when we got a quick lesson in Carnival Glass 101. I told Debbie if we ever found anything like that I would be interested in acquiring some.
In 1992, we were on vacation passing through Charlottesville, Virginia when we stopped at an antique mall and found several booths laden with Carnival Glass. We bought six pieces and the rest is history.
Next came reference books, study, and joining Carnival Glass clubs. We still enjoy going out "beating the bushes" looking for treasures. We go to flea markets, antique shows, and auctions. Conventions helped us learn what to look for in the way of iridescence where we have met many wonderful friends through the years...the greatest treasures of all!
Rick and Debbie Graham live in Owensboro, KY.