Bob Smith Tumbler Museum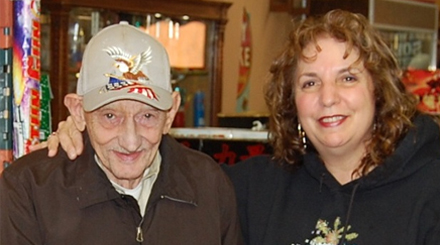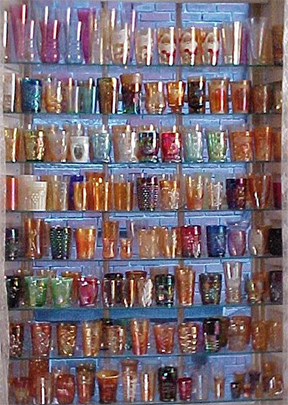 Robert Francis Smith, Jr. of Beacon Hill, Boston, Massachusetts, was born in Cambridge, MA on September 12, 1929. At the time of this writing, he is 87 years old. His father, Robert Smith, Sr. was from Boston, born of Irish descent. He was a mechanic who managed a fleet of military trucks during World War II. His mother, Bertha Green, was of English descent, having been born in Newfoundland, a large island in the Atlantic Ocean off the east coast of Canada. She was a dutiful housewife and doting mother. Bob smiles, and with a twinkle in his eye, says his parents called him their "last chance" baby because it was a miracle for his parents to have conceived him in their 40's. Bob was an only child and has no living relatives.

Bob was raised and went to school in Cambridge. After he graduated high school, he joined the Army at age seventeen and was a "surgical technician" for the first three years where he was stationed in Germany. He remembers that while making a stop in Iceland, a fellow comrade developed appendicitis and there was no doctor there at the time to perform the surgery. Although he was not a surgeon, he was asked to perform the appendectomy, which he dutifully agreed to do. There was no one else even remotely capable. Bob said, "In those days they used to put a patient out with ether!" and he shook his head and rolled his eyes. He said he made the incision, pulled out the intestines, clamped everything, removed the appendix, and sewed the fella back up. There was no one more grateful than Bob that this man actually lived through the operation. The next day a helicopter came in to take "his patient" to a real hospital and as far as he knows, this man lived on. This humbling experience stayed with Bob his whole life through.

When the Korean War broke out in 1950, he got a letter from President Harry Truman asking him to serve his country. He was shipped back out to Germany and then later went to Japan, the Philippines, and Korea as well. His rank was Quarter Master. He didn't come home until he was twenty-four, having visited both sides of the world during his enlistment.

When he returned home, he attended Boston University on the GI Bill. He received his diploma in 1958 with a degree in "Scientiam Politican", Latin for Political Science. He used his education to help council politicians on how to win their elections with his guidance and recommendations. During his career, he put three State Senators in office as well as four State Representatives and two District Attorneys. During the 1960's, there once was an enthusiastic man in Portland, Maine who wanted to win an election with Bob's help. Bob considered him to be a bit of a lost cause but he took the job anyway and gave it all he had. During this job, he had to stay temporarily in an unfurnished cottage which he found was so drab and lifeless that he set out one day to find something colorful to "cheer it up". He took a liking to half a dozen Carnival Glass tumblers at one of the shops downtown that he thought were interesting and pretty. Although he did not know it at that time, these tumblers would be the first of his lifelong collection.

Later in the 1960s, he became the treasurer of the Republican State Committee and raised over a million dollars in donations from his solicitations. That was a lot of money in those days...and still is.

In 1974, he rented a room in a four-story tenement house at 8 Joy Street on Beacon Hill in Boston, right down the street from the Capital building where many of his clients were close at hand. This house is the second oldest building on historic Beacon Hill. It was built in 1799 by a wealthy merchant, Robert Gould Shaw (1776-1853) whose grandson, Robert Gould Shaw (1837--1863), was born in the very room Bob lives in now. Shaw grew up to be an officer in the Union Army during the American Civil war. He was known as the commander of the all-black 54th Massachusetts Infantry Regiment which entered the war in 1863. Bob has lived here in this neighborhood, steeped in American history, for the last forty-two years of his life. He has made lifelong friends with the many tenants who live there. Bob feels fortunate to be surrounded by these good friends who care and look after one another like family. When Bob retired, he became the building's superintendent and was also the manager for a Stop & Shop grocery store in the area.

During those earlier years, he really got the bug to collect more tumblers. The Boston area is famous for its antiques shops. He religiously made his rounds and also sought out tag and church sales, thrift shops, Salvation Army stores and flea markets. He started going to Carnival Glass auctions, mostly in the Midwest, where he first met Tom Burns and the late Bill Richards, Sr., both auctioneers.

Through the years as his collection grew, Bob mounted shelf after shelf on his walls and inside his windows on all four sides of his living space and took pride (and tremendous joy) in filling them with tumblers in every imaginable pattern and in each color found in those patterns. He said about his collecting, "I liked doing it and somewhere along the line I made up my mind that I was going to have the most. If I didn't have it I got it, no matter what it cost, as long as it was perfect...no chips or nicks anywhere."

In 1996, Bob traveled around the world in a month and a half, buying up Carnival Glass tumblers from countries including India, England, Finland, Czechoslovakia (Prague) and Australia. He was a man on a mission! With eyebrows lifted, he recalls being in Bombay, India where he was accompanied by an Indian guide. This guide bartered for him so that the prices he paid for the sixty tumblers they found came down to just two or three dollars each on average. He explained these same tumblers started bringing one to two hundred dollars a piece later on in the States when their popularity caught on. He feels lucky to have purchased them when he did but it was not because he could foresee making a profit. Bob never sold any of his tumblers. He felt elated, as we all do, when we get a great bargain for something we love. Also, in 1996, Bob said he caught a big break and bought quite a few tumblers from two wealthy collectors from Florida who wanted "out" of their collection. He said they had the very best examples of everything they could buy. This accelerated his total number of tumblers dramatically..

One of his most favorite hunting excursions would be the days he would spend walking the fields of the different shows at the Brimfield Antiques Show, in Brimfield, Massachusetts, New England's oldest and largest outdoor antiques market. For decades, Bob regularly attended all three seasons of operation, which was, and still is, a full week at a time during the months of May, July, and September. This was the place where finding tumblers was the most fruitful for him. He would go it alone but meet up with friends like the late Bob Bishop and Moe Myers. The three of them were some of the founding fathers of the New England Carnival Glass Association, known as the NECGA. Bob would attend the meetings and yearly conventions, always bringing with him some of his new glass finds for "Show & Tell" and offering up articles for the club's newsletters.

Bob was good friends with collectors Floyd & Cecil Whitley. Cecil collected tumblers, as he did, so they always had much to correspond about. Bob was good friends with the legendary John & Lucille Britt too. They were all friends together and had a chance to visit each other at the yearly Heart of America Carnival Glass Convention, also known as HOACGA, one of the country's oldest clubs.

Bob had a reference book on tumblers that was a very important part of his life. I could tell by the way it was tattered and frayed that he literally may have used it every day of his life since he's owned it. This spiral bound book was put out by the Heart of America Carnival Glass Association, published in 1992, titled "Educational Series II". Bob has acquired 172 out of the 180 old Carnival Glass tumblers listed and shown in this book so you can see this point of reference gave him a goal to strive for. Not only that, it was instrumental in helping him understand and keep his thought process of collecting "one of everything" a reality. He'd check off each pattern as he found them; the proverbial notch on his belt.
In reading the Carnival Glass Tumbler News that Bob gave me, O. Joe Olson, editor & publisher, wrote in Interim No. 2, June 15, 1981, a paragraph titled, "ALL PATTERNS NOW IN WHITLEY CORRAL". It went on to say, " A note from Floyd and Cecil Whitley in Houston, Texas, states that they now have all of the tumbler patterns listed in any publication they have seen. "We believe this may be the first time all the patterns have been displayed in one collection." The only tumbler that evaded the Whitley's to date is the Enameled Windflower (shown in Owens' book)." I think this is where Bob got the notion to do the same. There were eight tumblers left for him to find that was listed in the HOACGA book.
He also had that Owens' book mentioned by the Whitleys, which was just as worn and tattered as the HOACGA guide that he thought was a great resource. It was called "Carnival Glass Tumblers" written by Richard E. Ownens and copywrited in 1973, with the second printing in 1978. On the front cover was a photograph of Bob's second favorite tumbler, the Frolicking Bears.

There are two more books that are interesting on the subject. One is "The World of Enameled Carnival Glass Tumblers" by Cecil Whitley, printed in 1985. The other is "Carnival Glass Tumblers, New & Reproduced -1960 to 1984- written by Thomas E. Sprain in 1984.

Bob's advice to his fellow collectors is this: Find the shape you like in a piece of Carnival Glass, be it tumblers or punch bowls, it doesn't really matter, just as long as it suits your home and lifestyle for space in collecting.

Bob says he's forgotten so much knowledge he could cry. His computer is was old, purchased in 1996, but it was still working and he had a photo of each tumbler, labeled by name and color, for quick reference. In this way he could check in an instant to see whether or not he had any particular one he may see on eBay or in an auction catalog online during the last few years when he could not get out much.

Bob passed away after his battle with heart disease just after Thanksgiving Day on Black Friday 2017. He was buried at Woodlawn Cemetery in Everett, MA next to his mother.
Biography & Photos by Christina Katsikas (shown with Bob).